Flexible Security for a Global Client Base
Microsoft PlayReady is arguably the most broadly deployed DRM technology on video devices globally and has a long history of investment and evolution from Microsoft. It's a technology has undoubtedly done much to enable the broad landscape of video streaming services we see today.
A systematic licensing policy from Microsoft for the client technology has help proliferate PlayReady beyond the world of browsers to deployments embedded in many 3rd party phones, tablets, streaming media players, games consoles and smart TVs. The current generation of the technology supports both live and on-demand content delivery, and frequently includes an integration with the Trusted Execution Environment (TEE) subsystem on the client device chipset to provide the highest level of secure video playback through the native OS player engine.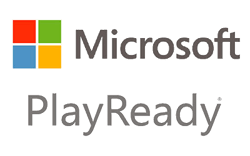 Enabling the Microsoft ecosystem
Full Native Client Security
Using PlayReady DRM, video service operators and content owners can take advantage of hardware security features to securely distribute Ultra HD, 4K and HDR premium content to a wide range of devices, enabling flexible models for monetization while protecting the content from unauthorized use and piracy.
HLS, MPEG-DASH and CMAF Streams
Fully leverages CENC, transport and sample encryption standards to protect streams of all formats. A native AES CTR and CBC encryption key system, as already adopted throughout the industry, gives full current and future CMAF security capabilities.
Live Stream Key Rotation
The broadest range of on-demand business rule option support. Plus glitch-free live stream security through the PlayReady scalable root and leaf license architecture.
Powered by EZDRM
PlayReady DRM is an easy to integrate cloud-based service, giving you the benefits of industry grade protection of your audio and video content. License entitlement uses custom device data, enabling any business logic to seamlessly integrate into the DRM license delivery process. Includes a proven interface to all leading live, on-demand and dynamic content packaging tools.
Supported Platforms
PlayReady DRM takes full advantage of HTML5 standardized Encrypted Media Extensions (EME) in browser based video service delivery for Microsoft platforms. On mobile devices and dedicated streaming devices, licensed implementations of PlayReady client technology are integrated into many Smart TV and non-Apple streaming devices:
IE11, Edge browser and applications on Windows

Apps on iPhone/iPad that use a PlayReady SDK

Apps on Android phones/tablets that use a PlayReady SDK (Samsung and some others supported in OS)

Roku, Amazon Fire and many other streaming media players

Playstation 4/5 and XBox

Many Smart TVs
New to DRMaaS and Micro-services Security?
Access our comprehensive FAQ through the sample questions below: